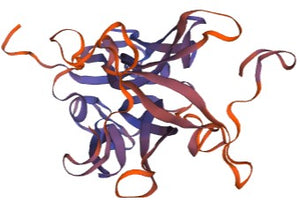 Golden Hamster Interleukin 17 Protein
Golden Hamster (Mesocricetus auratus) Interleukin 17 protein.  This protein was purified from transient expression in Human embryonic kidney 293 cells.  The mature protein represents amino acids 26-158 of XP_005072340.1; Uniprot A0A1U7QEN5 and includes and flag tag and a 6x his tag on the C-terminal end.
Two distinct bands of approximately 5kDa difference in size are observed on reduced SDS-Page due to a heterogeneous population of N-linked glycosylated protein.