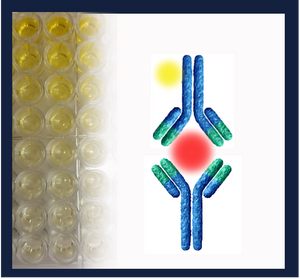 Guinea Pig IL4 ELISA set
Guinea Pig (Cavia porcellus) Interleukin 4 (GPIL4) Sandwich ELISA set. 
ELISA set contents: Capture Antibody, Biotinylated Detection Antibody, and Recombinant Standard
Assay Range: 200ng/mL-3ng/mL
The reagents provided in this kit are sufficient for ten 96 well plates when used as directed in the ELISA protocol.  
This set consists of a matched rabbit antibody pair that can detect nanogram concentrations of GPIL4.  The provided protein standard transiently expressed in and purified from HEK293 cells  represents amino acids 25-144 of NP_001244192.1; Uniprot V9NJM6.
Additional required materials not provided in the kit are detailed in the ELISA protocol.  
Click Here for more product details and protocols.